Raleigh Maid Service Can Help With House Cleaning Duties
Life is busy; even if you're productive and efficient in scheduling and logistics of running a home, especially for moms and dads with kids and pets. Rather than getting stressed about having a messy home around the holidays, give your local maid service a call and let them come in and make your home clean in all the important places like the kitchen and bathrooms.
Busy professionals are often able to keep on top of the small daily duties – such as vacuuming and wiping down the counters, but making time to do a more thorough house clean can be more of a challenge and there are many benefits from having a clean home which can include helping you prepare for hosting guests for the holidays.
Here are 3 times when it makes sense to make use of a house cleaning service:
1. If you're hosting guests for the holidays
If you love the thought of filling your home with families and friends but can't think past all the cleaning you would need to do in preparation, this one is for you. Preparing for a holiday party can be stressful, and the list of to-dos is unending – from planning the event to sending out invitations, preparing the food and more.
One of the most important steps for preparing your home for a holiday party is to have it properly cleaned. If you've gotten to the point where you're running out of time and you're not going to get to it, you can hire a home cleaning service like MaidPro to come in and get the job done for you. This takes one big, slightly overwhelming task, off your to-do list, freeing you up to focus on other, more enjoyable parts of that holiday party planning.
Hopefully, your party goes off without a hitch, but you might wake up the next morning to a house that now needs to be cleaned after the wonderful party. This is where a one-time clean by a professional maid service will leave your home clean once again. Quite often, people will hire the maid service for a deep clean before the party and a quick clean the day after the guests leave. This can really take a big burden off the host and is a secret tip for the professional holiday host!
2. When family members are visiting
The cleanliness of your home might not be a top priority for your immediate family but, if you have family visiting from out of town, especially if they're staying with you, a deep-cleaning of your house might suddenly become more important.
A one-time clean by a house cleaning service can completely diffuse the situation. Within a day your home will be spotless, ready to open to even the pickiest guests which leaves you just enough time to focus on stocking the fridge and other last-minute essential tasks.
3. Hire one-time cleaning service when your home needs a spring clean (even if it's not spring)
Dust and dirt accumulate slowly, you might not even notice it happening, especially if life is busy and you're out of the home for most of the day. A one-time clean can help you get back on top of the dirt in your home, giving you fresh inspiration and encouragement to keep it up in the weeks and months afterward. Sometimes it helps to have a cleaning service come in and get your home back in order so that you can get back into a regular cleaning rhythm.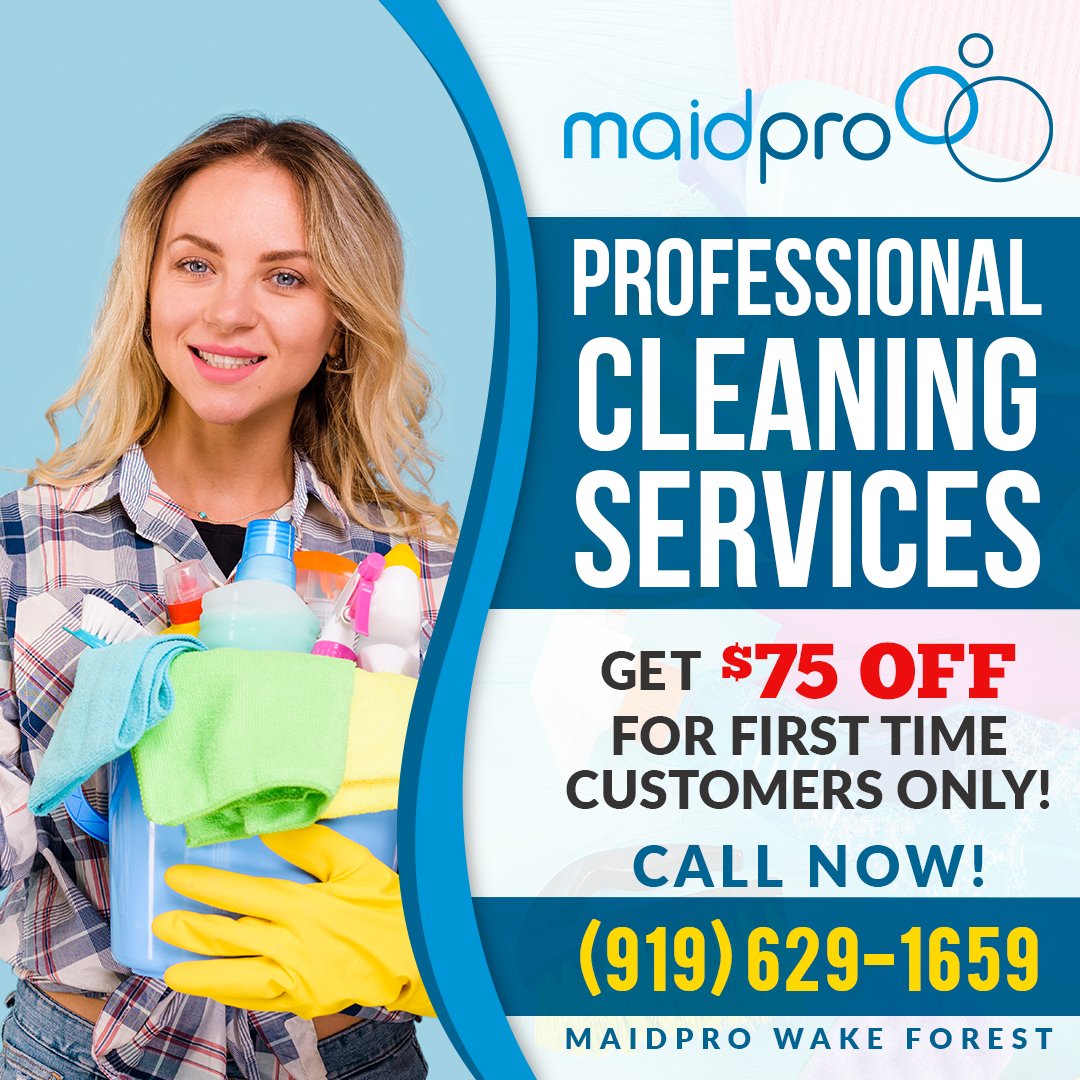 Whatever you need, MaidPro in Raleigh, NC, can help with a one-time or regularly scheduled cleaning service making life less stressful and the home more beautiful for their clients. They work with their clients to build a cleaning plan which is tailored to each client's needs and budget.